ASSOCIATION OF POLISH DAIRY PROCESSORS was established on 28th May 1999. One of the major reasons for founding APDP was that the dairy sector companies other than cooperatives needed a forum for sharing experience, establishing contacts and co-operation as well as their own representation.
President of the Board is Mr. Marcin Hydzik.
MEMBERS
APDP is a dairy organization uniting employers, milk purchasing businesses, processors along with companies working for the Polish dairy sector.
Among our members are:

"AGROCOMEX" Sp. z o.o.
BAKOMA Sp. z o. o.
Mazowiecka Spółka Mleczarska S.A.
"LACTIMA" Sp. z o.o.
Transport Mleka Karol Wasiński
Arla Foods S.A.
EMILGRANA-POLAND Sp. z o.o.
HOCHLAND POLSKA Sp. z o. o.
Ilas Polonia S.A.
NUTRICIA Zakłady Produkcyjne  Sp. z o.o.
"POLMLEK" Sp. z o.o.
Fresh Logistics Polska Sp. z o.o.
DANONE Sp. z o.o.
ZOTT Polska Sp. z o.o.
AIMS OF APDP
to protect members rights and interests;

to enhance the development of milk and dairy products market;

to upgrade products quality and promote quality dairy products;

to improve the dairy sector image;

to develop rules and standards to facilitate the co-operation amongst business units in dairy sector.
APDP represents its members towards labour unions, authorities and bodies of state administration and non-government organizations.

ACTIVITIES
APDP activities concern enhancement and development of Polish milk and milk products market as well as promotion of milk and milk products consumption.
By developing co-operation with other dairy organizations, ADPD aims at creating strong representation of dairy industry interests in Poland and abroad. It has also taken steps to shape positive image and enhance prestige of Polish dairy industry on the Single Market of the EU.
Right from the beginning, the ADPD has taken measures to disseminate expertise on quality and legal requirements for the dairy sector and other information vital for the sector.
APDP also participates in the legislative process by providing opinions on legislation affecting dairy industry at the national and EU levels. Our activities include also publishing as well as organization of training courses and seminars.

Publications
In response to growing demand for expertise on production economics and quality and hygiene requirements for the dairy sector APDP in cooperation with unquestioned experts almost each year adds new positions to its publications list.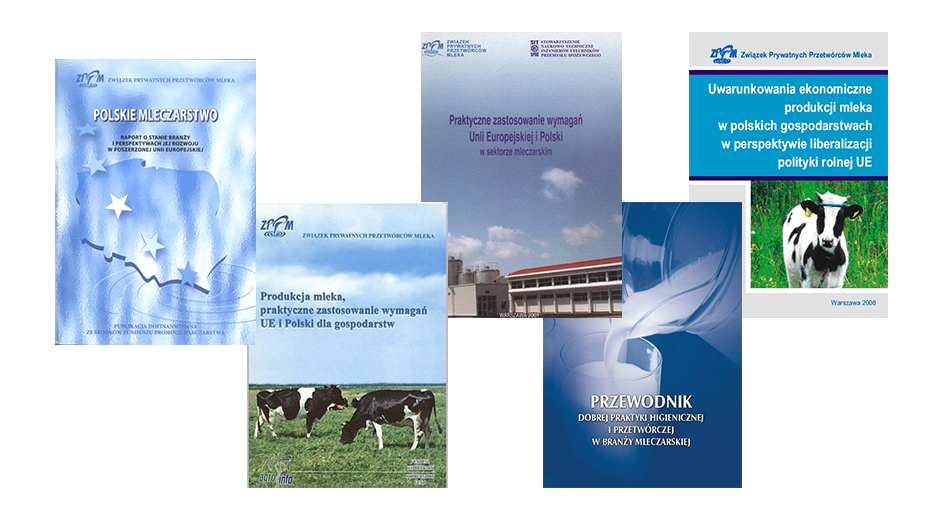 Training courses and conferences
One of the APDP routines is organization of training courses and conferences for the dairy sector. Taking into account the need for constant improvement of qualifications of dairy companies staff and milk producers the demand for training courses and seminars organized by APDP never fades.
The coverage of the training courses is adjusted accordingly to needs and expectations of dairy companies. APDP has implemented a number of training projects on the assessment of milk production cost, improvement of quality systems, dairy products labelling as well as microbiological testing of dairy products, new development possibilities and milk production cost items but also on cattle feeding, environment management system (ISO 14001), improvement of ISO and HACCP quality assurance systems and negotiation techniques. Each year APDP organizes conferences concerning for example economic situation in dairy industry or new legal requirements of the EU for the dairy sector.